Why Anarchism Must Triumph
Society, Democracy, Limited Power, and the Right to Revolt

By Punkerslut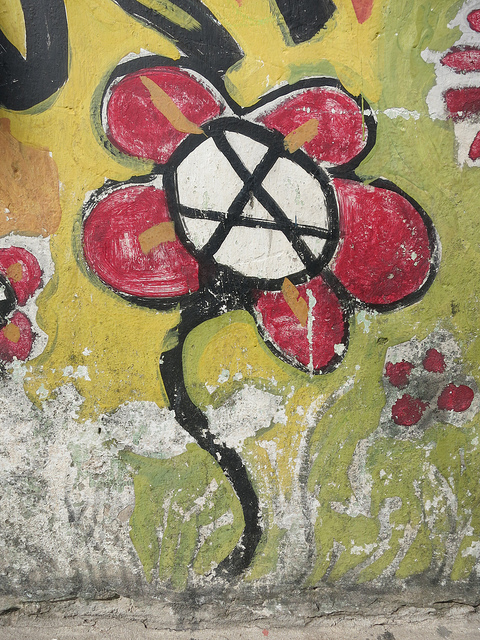 Image: By Wolfgang Sterneck, CC BY-NC-SA License
Authored: October 15, 2017
"...the strength of Anarchy lies precisely in that it understands all human faculties and all passions, and ignores none..."

--Peter Kropotkin, 1906
"The Conquest of Bread"
How Did Society Get This Far?
What is society? It is a collection of people who came together to share, compete, influence, trade, and struggle with each other. There are many societies that overlap at any moment. We now call this civilization, and every political ideology on the planet has claimed to be its defender.
How should society be formed? With some degree of control by the people themselves. Kings received their nomination to the kingdom from smaller, regional bodies, while Presidents receive them from far-flung, political parties. Neither is pure Democracy, and one may be more Democratic than the other, but the idea being reached for is what we call Democracy. Few social ideals would fully deprive the citizen from any influence in their society, regardless of what these movement's leaders would say.
How should we limit the power's of society? Whether the figurehead was emperor or prime minister, whether the country values its crown jewels or its constitution more, every country has been guilty of committing some atrocities. In war or in peace, governments have made excuses for torture, arbitrary arrests, mass murder, and slavery, whether Democratic or not. No matter the basis of power, it must be restricted. That is what many Liberals, Conservatives, and Moderates have called Limited Government.
What if the limits on power are not enough? If a giant is strong enough to tie itself to a tree, it is strong enough to get out of the tie. If a government limits itself with due process, trial by jury, the requirement of search warrants, and other limitations on political power, it still can commit atrocities, but only at a slower speed. If the established power of society is unjust and is unable to limit itself, then revolt and rebellion are themselves just. Again, few social ideals would argue against this principle, but in this case, few have a name for it: I will call it the Right to Revolt.
Then why not cooperation? Civilization leads to Democracy, which leads to Limited Government, which leads to the Right to Revolt. The first is natural, the second is semi-natural, but the latter two are fixes to make Democracy work. Limited Government often fails, and the Right to Revolt is too painful and demanding to invoke every time there is the smallest injustice. If Limited Government were replaced with Unlimited Cooperation, then the Right to Revolt would not be between a king and some peasants, but between relatively equal parties. Such an equality would take out much of the desperation and accompanying cruelty that comes with modern day civil wars. This principle of cooperation is called Anarchism; it is regarded as a monster by all political ideologies.
Social Development versus the Political Party
Liberals, Conservatives, and Moderates typically admire Democracy, although they always prefer that it be kept to their type of Democracy. The right-wing generally tries to restrict voting permission to those who are older, more wealthy, and more socially empowered (men in Sexist societies, white people in racist societies, etc.), while the left-wing generally tries to expand voting rights to more groups. Similarly, the Right to Revolt is accepted: usually because Conservatives feel like it would only be needed to revolt against Liberals, and vice versa.
The Liberals and Conservatives often accuse each of being undemocratic, but they would both be horrified today if you said that underdeveloped countries their nations had exploited now have established a democratic right to lead Europe and the West. For this group, the label Democracy is their motto, but Limited Government is the only ideological stone they place full faith on. And a "limited" quantity of something infinite is going to lead to numerous acts of revolt which are neither Liberal- nor Conservative-inspired. Anyone who intends to make use of the Right to Revolt under such a government only gets pardoned if they accept the system and its ultimate right to dominate.
The Communists on the extreme left wing and the Fascists on the extreme right wing -- both of these groups believe in government much more than their vanilla counterparts, they are likely to bash Democracy in public and then productively use it in some private spheres, and, like Liberals and Conservatives, they believe in Limited Government (when they are not in government), and the Right to Revolt is reserved strictly for themselves. When they are in power, they demand Unlimited Government. But today, those in Communist- or Fascist-inspired parties, regions, and countries are finding it practical to fully adopt the Limited Government promises of the globalized trade market -- as we can clearly see in countries like China and India on the Left, or Russia and Brazil on the Right.
Minor parties like to focus on the "Limited" part of Limited Government, and are more likely to view another group's use of the Right to Revolt as legitimate. In the US, this contrast is between the so-called Libertarian Party (which adopted an Anarchist term) and the Green Party. The former is likely to claim the Right to Revolt when managers cheat on "oppressive" taxes, while the latter will claim it during any workers' strike or indigenous peoples' protest. In Europe, the Greens are even stronger, and those resembling the "Libertarian" Party generally call themselves Liberals, but for party names, they are likely to be called "Freedom Party" or "People's Party." These are the faithful, waiting for the one true and honorable government to come along and rule them, burning candles at their protests like it was actually a religious ritual.
When Equal Cooperation is the Basis of Society, It is Called Anarchy
No government has been able to completely disregard the basis for all of civilization: Society, Democracy, Limited Government, and the Right to Revolt. But no political group could ever simplify this formula any further, because doing so would be the same thing as abolishing government. Limited Government is just a fix to the problems of Democracy, and the Right to Revolt is just a fix to the problems of Limited Government; the device keeps breaking, the more stuff we put on it, and the political parties certainly have their own baggage that needs to be carried. Perhaps we are using a device that is unnecessarily complicated in regards to our needs. This ultimate simplification is Anarchism and the abolishment of government.
No one could ever imagine doing without Society, and if we are conjuring up a new social system that may be what others have to live in, then it wouldn't be fair to eliminate the Right to Revolt. Limited Government is the first correction to the problems of Democracy; this is where the chain breaks, so, let's investigate as if the fault is somewhere between these two. If Democracy was too powerful, then why not Cooperative Democracy? In modern, state-enforced democracies, a law passed by the majority is applicable to every person. Laws are passed similarly in stateless democracies, except they are enforced using non-violent, non-coercive means, so long as the issue itself isn't about violence. By taking the club out of Democracy's hand, we eliminate the need to have Limited Government. What is there to limit when the majority uses force only when force is used against it?
All political ideologies have made use of the four principles: the first (Society) and the last (Right to Revolt) are just, but Democracy was bitterly remolded into merely Statism with some public consent, and the result was such an abomination, that nobody could reject Limited Government. If we simplify the formula to this -- Society, Voluntary Democracy, and Right to Revolt, then what we have is a Cooperative Society. What have we saved in this simplification? Every book on Limited Government has started with descriptions of wars, forced labor camps, mass executions, starved populations, artificially-produced famines, decimation of the planet and wildlife, and on, and on. If we lose that, we have saved plenty.
Those who look at the experiment of State Democracy and want it to continue simply believe that the cost, so far, has been worth it. I do not understand how they cling to Limited Government just as much as they cling to their Patriotism and belief in duty to the state. The force of the former should be enough to negate the power of the latter -- but the opinions of people do not behave with concrete laws, like physics and mathematics do. Isaac Newton never gave proof of the Theory of Gravity, even though many other theories at the time (like Ether) provided a full explanation of the laws of motion as observed by humanity. But Gravity was eventually accepted universally, if only because it was simpler than the other systems.
Every political ideology has made some use of Limited Government. In one hundred years, two hundred years, or some thousand years, I imagine the same thing to have happened as in the previous: some commercial interests rise to power and then fall, some religious thinking becomes dominant and then recedes, some empire stretches from one end of the world to the other and then to nothing again. But each of them will have Limited Government as part of their philosophical basis -- each of them will contain the contradiction. Underneath the vastness of the State's nets and traps, we will be able to poke holes through that contradiction until the end of time. On such a timeline, the triumph of Anarchism is certain.
Punkerslut,